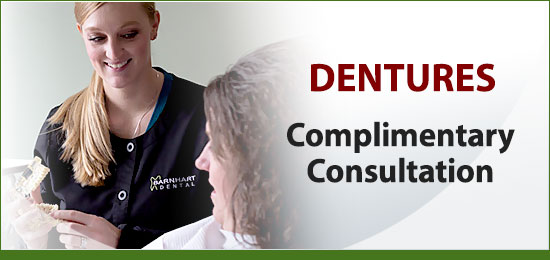 Call Us Today at
(573) 422-3612
or fill out the short form below
If you have lost several teeth due to decay or trauma, you may be a good candidate for restoring your smile through dentures. Your Vienna dental team of Dr. John and Dr. Joseph Barnhart can provide you with either of these two approaches:
Immediate full dentures – Your mouth will be precisely measured so that replacement dentures will mold naturally to the contours of your mouth. Broken teeth may have to be removed, but temporary dentures will be placed in that same session, so that you are not without teeth for any length of time. Afterward, a follow-up visit will probably be necessary to make any necessary adjustments which occur during your mouth's healing process.
Conventional full dentures – this approach will involve a period of time when your mouth heals following the removal of damaged teeth.
Dentures provide either partial or full replacement for teeth which are missing in your mouth, but they are not permanently situated as an implant or dental bridge would be, and can be put in or taken out as desired. Taking dentures out at bedtime, for instance, is an opportunity for cleaning them each day, and is a common practice among denture-wearers.
In general, dentures can be treated as though they are your real teeth, in terms of the level of care you give them. They should be brushed to remove food particles each day, and placed in a room-temperature solution for cleaning. They should not be exposed to extremes of temperature, or to rough handling, because dentures are fairly delicate structures, and can easily be damaged by mistreatment. This means our patients should also not make adjustments to their dentures on their own, but our Barnhart Dental team is always on-hand to help with adjustments, questions, and concerns. You deserve the confidence that comes from having a full smile again- reach out to Barnhart Dental today to talk to our Vienna team about your options!
Educational Videos
To redeem your Free Dentures Consultation, simply complete the form below, and our treatment coordinator will call you to schedule your visit.

CONTACT US
Barnhart Dental
1406 Highway 63 South
Vienna, MO 65582
NOW SERVING: 
Argyle, Belle, Freeburg, St. Roberts & Rolla
To take advantage of our special offers
Call or Text (573) 422-3612
or fill out the online form to