Tooth extractions can become necessary when teeth become impacted, or severely damaged. Wisdom teeth also usually need to be extracted, because they can cause pain, infections, and problems with spacing in your mouth. Dr. John and Dr. Joseph Barnhart have performed extraction surgery many times to help restore good dental health and relieve pain for our patients.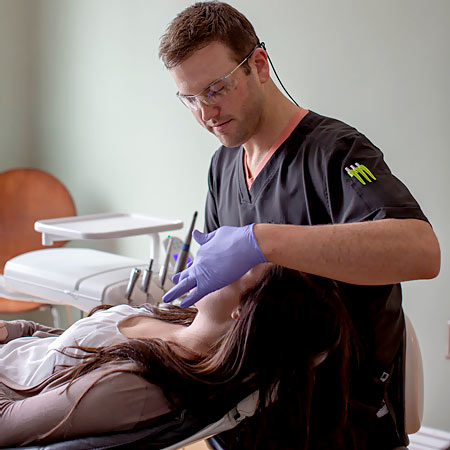 If they are causing you pain, all four wisdom teeth can be removed at once. To ensure our patients may remain comfortable during the procedure, either a local anesthetic or a general anesthetic can be used. At Barnhart Dental, your preferences are important to us, and we will make every attempt to accommodate your wishes, while also maintaining the safest possible circumstances for the operation.
As with any kind of surgery, there is usually a period afterward where the patient will feel a little discomfort, and in this case, will not have full use of the teeth for ordinary chewing and eating for several days. It is important to monitor the affected area for bleeding which might occur in the aftermath of surgery, especially if it continues for longer than a full day after. It may also be necessary to take some pain medication to alleviate discomfort for a short period of time after the surgery.
Post-surgery, you will also be limited to eating softer foods such as gelatin, mashed potatoes, soups, and ice cream – foods which do not require any chewing. When drinking fluids, it is important to avoid using straws, because the sucking action can loosen your sutures. In the days following any tooth extraction, it is important for you to be especially observant, so you can report anything unusual to Dr. Barnhart during your follow-up appointment.
Call Us Today
(573) 422-3612

CONTACT US
Barnhart Dental
1406 Highway 63 South
Vienna, MO 65582
NOW SERVING: 
Argyle, Belle, Freeburg, St. Roberts & Rolla
To take advantage of our special offers
Call or Text (573) 422-3612
or fill out the online form to