Endodontics is the dental specialty of treating various nerve diseases. If tooth decay is allowed to advance, many people develop an infection in the root of their tooth. Untreated, an infected tooth develops into an abscess, and this can lead to loss of bone in your jaw.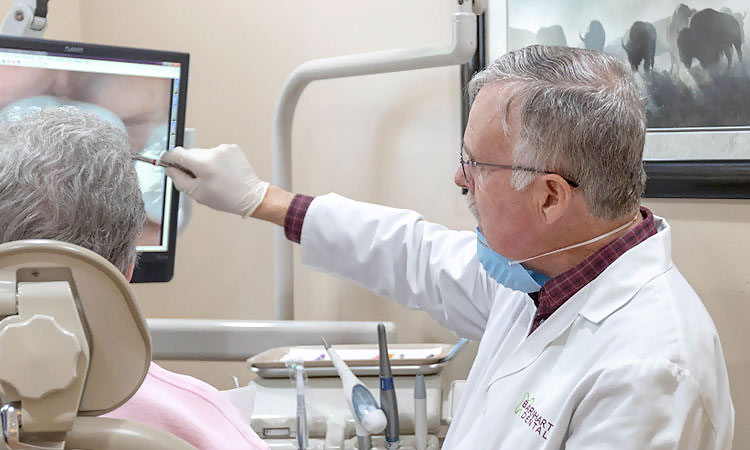 Dr. John Barnhart and Dr. Joseph Barnhart understand that our patients sometimes feel nervous about coming in for cleanings and treatments because they have anxiety and are worried that procedures may be painful. Fortunately, the science of endodontics has come a long way, and many of our patients experience little to no pain during treatments for tooth decay. Our Vienna, MO dental team can offer you sedation and anesthesia options to ensure your comfort during any advanced procedure.

After applying local anesthesia, Dr. John or Dr. Joseph Barnhart will open up and clean the tooth canal after removing the infected tissue, then place a sealant to protect it. Many of our patients follow up with a dental crown to further reduce sensitivity and protect the tooth from future infection.
You may experience mild soreness after having an infection treated, but you will be amazed at how quickly you feel much better from having the procedure done. Our patients happily report that they no longer experience pain when they bite down hard, and they're able to again enjoy eating or drinking things that are especially hot or cold.
Please contact Barnhart Dental today to schedule an examination if you think you have an infected tooth. You deserve to live without pain!
Call Us Today
(573) 422-3612

CONTACT US
Barnhart Dental
1406 Highway 63 South
Vienna, MO 65582
NOW SERVING: 
Argyle, Belle, Freeburg, St. Roberts & Rolla
To take advantage of our special offers
Call or Text (573) 422-3612
or fill out the online form to