Our teeth encounter a lot of trauma over time which makes them more susceptible to cracking and discoloration. Thankfully, Dr. John and Dr. Joseph Barnhart can help with any smile restoration treatments needed to bring back your natural smile. If your teeth have become cracked or decayed over time, dental crowns are one available solution that can transform a discolored smile into one that you can be proud to show off.
Why May Crowns Be Necessary?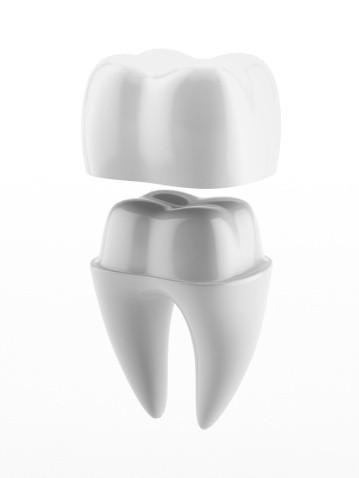 If you are experiencing tooth discomfort, it's important to make an appointment with our Barnhart Dental team to have an examination. If Dr. Joseph or Dr. John Barnhart notice that a tooth has advanced decay or cracks, a filling may not be enough to solve the problem. In that case, they will likely recommend a crown to prevent further degradation of your tooth and restore your confidence in your smile.
What Are Crowns Made From?
Dental crowns are made in several different ways. Barnhart Dental offers standard porcelain crowns, as well as porcelain fused to metal. Of course, full gold dental crowns are also available in some instances. Dr. John and Dr. Joseph Barnhart recommend porcelain finished crowns, as these can be color-matched to your natural teeth so that your crown is virtually invisible – it will look just like one of your other teeth.
What Is the Process of Installing a Dental Crown?
Installing a dental crown will require several appointments. The initial appointment at Barnhart Dental will involve gently reshaping your natural tooth to prepare it for the crown. Next, Dr. Barnhart will make a mold of your tooth, which will be used to ensure the porcelain crown is a perfect match to your other teeth and fits perfectly over your existing tooth. Finally, you'll have a temporary crown fitted to protect against damage while the permanent crown is being finished.
We use a specialized lab to create our crowns, so it usually takes two to three weeks for your permanent crown to arrive at Barnhart Dental. You'll then need one final appointment to fit the crown, and it will be cemented in place permanently.
How Long Will My Dental Crown Last?
Modern dental crowns are highly durable, and yours should last between 10 and 15 years. As with all teeth, it is important to care for crowns properly – regular brushing and flossing are just as important with crowns as with your natural teeth.
Interested in learning more about how dental crowns can transform your smile? Contact Barnhart Dental today to schedule an appointment.
Educational Videos
Call Us Today
(573) 422-3612

CONTACT US
Barnhart Dental
1406 Highway 63 South
Vienna, MO 65582
NOW SERVING: 
Argyle, Belle, Freeburg, St. Roberts & Rolla
To take advantage of our special offers
Call or Text (573) 422-3612
or fill out the online form to