Your oral health is an excellent indication of your overall health. When left untreated, mild health issues like gum disease can exacerbate and increase the risk of more serious diseases such as diabetes, heart disease, and oral cancer. Adopting a healthy lifestyle of eating nutritious food, avoiding smoking and excess alcohol consumption, and brushing and flossing at least twice a day is the best way to improve or maintain your oral health.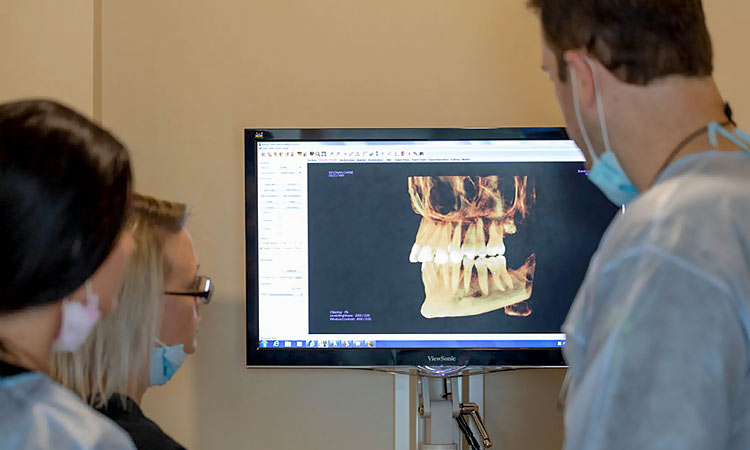 Your bi-annual preventive care appointment at Barnhart Dental is an important part of keeping your teeth, mouth, and gums healthy. When you come in for your appointment, our Vienna dental team will help you establish an effective oral healthcare routine that you can easily maintain at home. In addition to getting your teeth sparkling white, our team will also check for any indications of oral health issues that require further attention.
It might seem strange to hear a dentist say that your teeth are not the only important thing in your mouth, but it's true! At Barnhart Dental, we focus on keeping your entire mouth healthy. This includes your tongue, gums, and other soft tissues, as well as your teeth.
One way our team supports your overall health is by completing an oral cancer screening at every preventive care appointment. Sometimes the signs of oral cancer, such as a small sore in your mouth that won't heal, are subtle enough that they would otherwise go undetected, so Dr. John and Joseph Barnhart feel it's very important to screen early and often. The Centers for Disease Control (CDC) recommends this screening for all Americans over age 17.
Periodontal cleanings and treatment helps to ensure good gum health. Dr. John and Dr. Joseph Barnhart are happy to answer all questions you may have about maintaining good oral health. Our entire Barnhart Dental team is committed to ensuring you have great dental health for years to come.
Educational Videos
Call Us Today
(573) 422-3612

CONTACT US
Barnhart Dental
1406 Highway 63 South
Vienna, MO 65582
NOW SERVING: 
Argyle, Belle, Freeburg, St. Roberts & Rolla
To take advantage of our special offers
Call or Text (573) 422-3612
or fill out the online form to